In Memory of
Visitation
1:00 to 3:00 pm Sunday November 19th, 2017
---
Service
3:00 pm Sunday November 19th, 2017
---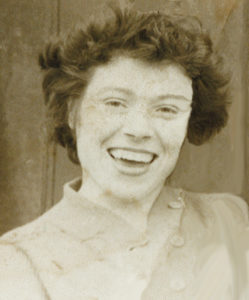 Born in Hull, England and long-time resident of Tottenham, Ontario, Betty passed away on Tuesday, November 14th in her 87th year after a valiant battle with cancer. She will be greatly missed by her family and friends.
Betty was a loving mother of Portland Stirling (Ron), Yvonne Mallard, John Mallard (Nancy) and Charles Mallard. Cherished Grandmother to Rachel Stirling, Katrine Fraser and Mike Stirling and dear Great Grandma to 10 great grandchildren.
Betty will be forever remembered as a strong and hard-working woman who selflessly devoted her time to her family, business and pets. Her passions were travelling, reading, baking and fitness. She spent many years volunteering at the Tottenham Legion, the train station gift shop and the horticulture society. The community will remember her as the little lady who walked around town at a very fast clip for 2 hours each day.
Her greatest adventure was when she signed up with the British WRAF and served during the Suez Canal crisis in Egypt. It is there she met and married the love of her life, Geoffrey Mallard, who predeceased her in 2013.
Flowers can be sent to the Rod Abrams Funeral Home in Tottenham or donations can be made to the Alliston and District Humane Society.
The family will receive friends at Rod Abrams Funeral Home, Tottenham, on Sunday, November 19th, 2017 from 1:00 pm until time of memorial service in the chapel at 3:00 pm. www.RodAbramsFuneralHome.com
Print Obituary & Condolences