In Memory of
Visitation
11:00am until 12:30 pm at Rod Abrams Funeral Home by family invitation
---
Service
1:00 pm at St. Church, Colgan by family invitation
---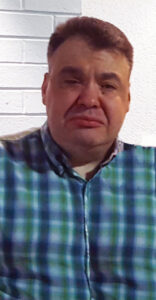 In Jesus Christ's Holy name, we share the passing of Joseph Charles Bonello, born April
25, 1964 in Toronto, Ontario. Our beloved and beautiful brother was loved beyond
understanding, our brother passed suddenly on December 10, 2020.
Joseph Charles Bonello was born to our beautiful parents Emanuel and Lina (Carmen)
who have departed with Jesus our Saviour no less than two years before to prepare a
banquet for a well deserved Joseph Charles, unlike anything we can possibly imagine
here in this realm.
Joseph Charles Bonello was a man of internal strength and fortitude unlike anyone else.
Despite great abuses that emotionally handicapped, plagued and tormented Joseph
throughout his life, Jesus never left his side, and God truly loved Joseph immensely.
God truly tested Joseph in faith and for this Joseph's reward is immeasurable.
Joseph is a warrior who fought the serpent that lurked and plagued him his entire life.
Despite all the attempts to break Joseph's will, despite all attempts to tear away his hopes.
despite all the years of torment, this serpent has failed, as Joseph left in the hope and
promise of Christ Jesus, his Lord and Saviour.
This is why Joseph's life is a victory over Satan and sin. Even though we will long for
Joseph, we know without any doubt that this was salvation from pain that Joseph was
absolutely not deserving of.
Joseph was innocence, and even though that innocence was robbed from him, he still
tried. Even after Joseph's wings were intentionally broken, he tried to fly when the world
told him to.
Joseph's life is a testament of courage and faith, of how one could be so crushed and
tested by Satan who was given free reign by God to do so here in this world.
Joseph did not deserve the pain and suffering he endured, yet despite this he endured
what most could never in his place. Despite the pain that was inflicted upon Joseph, he
simply was unwilling to depart from the promise of that ever lasting love of Jesus Christ,
it was hope that sprung eternal in him.
Joseph Charles Bonello without doubt walks with God and Jesus; if innocence has any
meaning at all and death is the wage of sin, so then faith in Jesus Christ brings reward of
Eternal Life.
Joseph leaves behind his younger brother Alexander James Bonello who loved his
brother beyond measure. A brother who longed for his older brother his entire life, but
that chance was stolen long before Alexander was born.
Joseph used to tell his brother, I come to you broken, and there was nothing I could do.
Joseph also leaves behind his two nephews Dominic and Nicholas Bonello who truly
have shown Joseph love and have always obeyed and helped when needed despite huge
challenges.
Joseph's admiration and love for Dominic and Nicholas was painful for he wanted to give
them so much but could not and this destroyed Joseph inside.
Joseph wanted to love but was broken, living broken for 56 years yet always seeking
God's everlasting mercy and hope for peace.
In so doing, Our Lord and Saviour Jesus Christ has taken Joseph from us so that in his
passing he will find the Love of Jesus Christ, that paradise and peace few will ever find.
Joseph was an innocent child of God, and though we mourn for him now, let it be forever
known that he will be rewarded beyond our comprehension and understanding.
Nothing of this world can compare to what God and His Most precious Son Jesus has
prepared for Joseph, we can only pray and hope that God will look favourably on us.
May Joseph Charles rest in the Peace of God's eternal Glory with Jesus Christ our
Saviour.
Let it be.
The family will receive friends at Rod Abrams Funeral Home, Tottenham, 905-936-3477 on Friday December 18th, 2020 from 11am until 12:30 pm. Mass of Christian Burial will be held in St. James Church 2118 Adjala/Tecumseth Townline, Tottenham, at 1:00 pm. Interment to follow in St James Cemetery, Colgan. www.RodAbramsFuneralhome.com
Print Obituary & Condolences