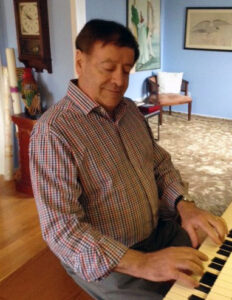 With countless heavy hearts, we announce that Joseph Paul Lionel Michel Monast, who always preferred to be called "Miguel," left us on Thursday February 18,2021. Leaving behind Bill Gregory Terlecki, and nine living siblings :Jean Pierre & wife Denise Monast from Bertierville, QC, Marie Pierrette Monast Helmers from Thorold, ON, Bernard & wife Georgette Monast from Granby, QC, Joseph Richard Monast from Waddell, Arizona, Marie Louise and husband Joseph Soueid from St-Hubert QC, Sister Marie Lucie Monast, SSTV from Norwalk , CT, Jacques and wife Maureen Monast from Ontario, Francois and wife Nicole from St. Telesphore, QC, Marie Octavie Monast from Brantford, ON and Nephews and Nieces. Gregory's mother Beatrice Elaine, his sisters Janice Terlecki, and Nancy Ann Henstra and her husband Peter, and his beloved guide dog Tommy Boy. Predeceased parents Jean Paul Monast and Marie Paule Dion-Bouchard and baby Norbert Monast,
The Knights of Columbus of Tottenham also lost a Brother Knight. Miguel was a fourth degree Knight, having done much work as chef de cuisine for fundraising dinners, corn roasts and fundraisings for the community.
Born June 08, 1950 in Montreal, the family moved to Windsor, and returned to Quebec, where Miguel's schooling was completed. Very determined to succeed – and with no help from anyone, Miguel set out on his own in his mid-teens, beginning a nursing career working with victims of Thalidomide. At this time at fifteen, he had always been mesmerized by the pipe organs in churches. Praying to somehow learn and master the complex instruments, Miguel's mathematical mind, talented hands – and feet, found another natural talent. His vow to play for the rest of his life if he could learn, soon came true. Aside from being the church organist in many locations, he jumped at the chance to try out those in foreign countries when visiting, and was most especially proud of having played on J.S. Bach's organ in Europe.
Not one to gather moss, Miguel soon headed south for New Orleans to study and become a registered nurse. Working at Southern Baptist Hospital, locals called him "Speedy Gonzalez" as they were not accustomed to someone zipping through halls and multi-tasking in such heat and humidity. One of Miguel's favorite stories was in taking the bus to work there in times when segregation was still present. Sitting at the back with African-Americans, they would often comment: "Hey brother, are you colored blind? You should be sitting up with your people." Miguel had no prejudice. Returning to Montreal to work at Notre Dame Hospital through the early seventies as a surgical technician, his spiritual calling took him to study as a monk at St. Benoit du Lac in QC as a Benedictine novice. There, he assisted in everything from the cheese and apple cider manufacturing, to digging the graves by hand for the departed monks in the cold rains of November. Sitting for long periods in prayer and contemplation were difficult for "little Miguel," who preferred to always be doing something physical and challenging, and to fly up and down stone stairways and halls rather than move in slow footsteps. Lacking "Monastic gravity" as was put, Miguel returned to Montreal, inspired by the career of the future: "Flying!"
In 1973, he had a choice of five airlines to work for. His inner voice told him to go with Air Canada, and he did: the other four are long defunct. At his interviews, he did not think he had a chance: perhaps his French-Canadian accent, or lack of height and something amiss in "looks" compared to the highly groomed swagger of other males waiting to be seen and hired, were Miguel's wrongly perceived self-doubts. Upon entering, his researched answers to questions, eagerness, experience in nursing, bilingualism, and greatest gift of gab and charm, left him with only one tiny set-back. So impressed with the interview, when standing on the scale, but a bit under height, Miguel was told to "stretch" and success was had. His career began at the end of the propellor age of Viscounts and Vanguards, and carried on through the DC's, Jumbos, L 10-11's and beyond. Miguel was proud to have worked among the very first passenger flights to Cuba, including one trip with Prime Minister P.E. Trudeau. In the 80's he worked the first Globals to India and Singapore. In those days of true First-Class service of rolled parchment menus, Hi-Temp oven roast beef dinners and silverware, Miguel often recalled notable people who were his passengers as he worked his way up to Purser and Service Director in Montreal, Toronto, and Vancouver bases: Richard Burton – who asked Miguel "Which language would you prefer me to speak?"; Liza Minelli; many politicians such as Former P.M. Diefenbaker; and a very candid and informally relaxed Queen Mother.
While flying during these years from the mid to late 1970's, Miguel took on a very harried business when he bought Holiday Flowers in the Holiday Inn complex of Toronto's New City Hall. Building it back up to profit, his nights off were spent driving to the flower clock in Milton, jamming stock in a very tiny Simca car, arranging them and handling sales, public relations, and deliveries. "Sell at peak" was always a mantra of Miguel, and that he did. Soon, on the first day of summer in 1979, Miguel and Gregory met – and more chapters were about to be written for the next forty-one-plus years.
Soon, living in a penthouse downtown was no place for their menagerie of cats, tropical birds and plants, and raising peacocks, chickens, and hatching quail eggs in incubators – and sneaking such disguised stock up crowded elevators. The call of the dirt beckoned as "Greener Acres" were soon on the horizon.
A few acres in Thornhill was only months later, replaced by their larger venture into farming in Beeton, where in 1982, they built a large barn, including 100 feet lengths of hand-nailed double"W" roof trusses. "If you can't do the work, you can't do the time." Push it was, with a new 5000 hen-brown eggs quota business, supplying Bob Jackson's IGA's and many stores and restaurants from Barrie to downtown Toronto – on top of his flying, and Gregory's work as Assistant Service Co-ordinator for VIA Rail on board services: "The Canadian."
With the lure of well-priced real estate after the EXPO '86 slump, they sold their farm and headed for the next chapter in British Columbia.
Buying a west coast rambling home and horse acreage, they turned it into a bed & breakfast dude ranch in Aldergrove, B.C. That same year, it was flipped, and the real hard work was to begin: designing the "Hillron" built "Eque Pacific Centre," one of the Lower Mainland's largest equestrian centres at 55,000 square feet indoor – 200 feet long free span dressage specs. Holding many Western, jumping, carriage and dressage shows, they also held the Fraser Valley Cadora's, Paso-Fino, Appaloosa, etc. shows, and European dressage clinician clinics. Taking an interest in driving, Miguel took on the challenge of a hopeless case, the unmanageable black stallion "Kenya," who had been housed in a tractor trailer. Soon, he was a pussy cat, and pulled Miguel along on a set of tires and chains delta across the outdoor ring while being steered to understanding that work – and discipline, was actually going to be fun.
In the 1980's, the Olympic Committee would not allow the using of a "Gay-Olympics" name for sports events in rotating countries. They became known as: "The Gay Games."
In searching for a venue for the logistics, Miguel and Gregory submitted their venue for the Western pleasure, trail, barrel racing, and highly competitive dressage categories. "Celebration '90" was then, the first, and only time any horse events were ever carried out at a Gay Games. Participants and spectators came from California, Colorado, Washington, Alberta and other western locals that August. The closing ceremony and BBQ at home for the several hundred was followed by a capacity crowd Pacific Place Stadium closing ceremony with Sven Robinson and entertainment by Long John Baldry and others. As a note of the times, acceptance of the Games and people involved met with much resistance and anger, including neighbors calling the police saying they wanted "no such people and horses in our area." Despite such stresses, they pushed on. With few businesses willing to sponsor – a big part of sports, Miguel and Gregory were always grateful for the two main ones who did up front: Air Canada and Safeway. Even finding responsible journalism to cover it on the news was scarce: local cable 3, and CBC news jumped at the chance with Ian Hanomansing delivering the news as it is done with all. With a 1995 sale of the 20 acre venue, "The Beeton Boys" as they were known, returned east to St Lazare de Vaudreuil, Quebec, where one of the most tender memories was sleeping in the barn at night waiting for a mare to foal out, and deliver a new life into the world.  Having returned to Quebec to be there for Miguel's parents, upon their passing, Miguel then passed that honor to Gregory when after his father's passing, they sold and moved – back to Beeton.
Through all these years, Miguel always found time to be "everyone's chef," and gave a hundred-fold of himself in feeding anyone who came through his door. He was always the last one to sit and eat, often not getting much unfortunately, as little of his international cuisine was left. He helped faltering restaurants, fed countless families, delivered meals, tended to so many sick and lonely people, talked hours on the phone to now far-away friends – and never could say "No." when asked to help. As he so often said: "It's not what you did, but what you didn't do."
In 2019, Gregory made the dream film of his life as an ACTRA Member, producing, writing and directing the award winning featurette. As Co-Producer, Miguel touched the hearts of cast and crew, also acting as the Chef de Cuisine and acting mentor. There was just never enough time for Miguel to do all possibilities that life held out on those many branches. Most importantly though, he was always there for us. Unknown to many, Miguel struggled with ever increasing blindness. With a botched cornea transplant, and only 5 percent vision in his other eye, Miguel used what little sight he had at 100%. All of his music was memorized, no matter how complicated. He played his music using the peddles and directed his choirs at his devotedly loved churches including St. Francis and St. James. This special human being is already greatly missed …but we know that he is now looking upon us. May he repose in God's Eternal Presence.
A Mass of Christian Burial will be held in St. James Church Colgan on Wednesday February 24, 2021, at 11:30am. Followed by interment in St. James Cemetery. Following pandemic protocols all attendees must wear a face mask covering the nose and mouth, respect social distancing requirements, and should only attend if they do not have a fever, cough, or any Covid symptoms.
Arrangements are entrusted to Rod Abrams Funeral Home Tottenham 905-936-3477. The Funeral Mass will be recorded and posted to the Rod Abrams Funeral Home Facebook page for those who wish to view from the safety and convenience of your own home. It will be available from Thursday February 25 until Thursday March 4. Please click here to be taken to the Facebook page video.
Everyone is encouraged to show support to Miguel's family by leaving tributes, memories, and condolences at www.RodAbramsFuneralHome.com.