---
Proudly Celebrating 50 years of Service to the Families within our Community and surrounding areas.
What began as an affection some 50 years ago continues today with the commitment to service made by our professional staff at Rod Abrams Funeral Home Ltd.
In 1965 Rod Abrams apprenticed with Turner & Porter funeral directors in Toronto and received his Funeral Directors license in 1966 after graduating from the Canadian School of Embalming, in Toronto, Ontario. Rod continued employment with Turner and Porter until 1973 when Rod and his wife Susan purchased the Anderson Funeral Home, in Tottenham, Rod's hometown.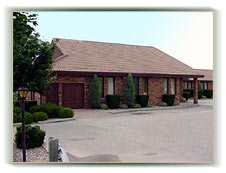 Rod And Sue have two sons: Todd who resides in Dallas, Texas, and owns a Food preparation company and National Meal delivery service and Scott who is actively involved in the family business since receiving his Funeral Directors license from Ontario Board of Funeral Service  in 1998.
All the staff of Rod Abrams Funeral Home are originally from or live in the Tottenham, Beeton, Alliston, and surrounding New Tecumseth areas, and are actively involved in the communities.
In January of 1988 Rod and Susan completed the new 13,000 square foot building they now occupy, overlooking the Nottawasaga Valley Conservation Area. The Funeral Home is built on 12 acres of land, into the side of a hill with 2 large parking lots able to accommodate up to 200 cars on funeral day. The spacious chapel can seat 125 people comfortably with a balcony that can accommodate 20 people along with the family room for up to 35 additional. Adjoining the chapel is an overflow area that has seating for approximately 70. This room also doubles as another visitation room. At the north and west area of the funeral home is a large receiving visitation room that can also be divided for use by two families. The large selection room is below the arrangement office and can accommodate a wide selection of urns, keepsakes, caskets, and memorial products.  Our building is handicap accessible.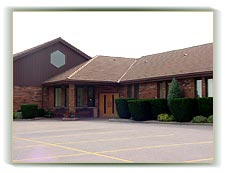 Continuing our commitment to meeting the changing needs of all the families we have the privilege to serve. In the summer of 2019 Rod, Sue, Scott, and Ashley Abrams and staff were very pleased to announce the Opening of their new Onsite Reception Facility "Cliffside Hall". The new Reception Hall provides families with a convenient Onsite area to gather for a time of refreshment and fellowship following a Funeral Service, or provide for the option of holding a reception style Celebration of Life.  The specifically designed and fully accessible area allows for a total reception space of 3000 sq feet and includes the latest technology to help celebrate the memories and legacies of loved ones.
The funeral home staff works closely with the area clergy who provide counseling as well as educational workshops. Tours of the funeral home are encouraged for students, health care workers, clergy as well as the general public. Price lists are provided outlining services as well as an explanation of the various costing for products and those services upon request.
Rod, Sue, and Scott Abrams are the sole proprietors of the business, and are members of the Ontario Funeral Service Association, as well as the Tottenham & District Chamber of Commerce.
Over the years Rod Abrams Funeral Home Ltd. has always strived to provide dignified and compassionate service to the many families who call upon us. Our commitment is also reflected in our support of various organizations and activities throughout the New Tecumseth region and surrounding areas, including church and community groups, seniors groups, schools, local sports teams, events and charitable organizations
Rod Abrams Funeral Home shall be the preferred provider of funeral services by anticipating, and exceeding the expectations of those families we serve. We will direct our families with the highest degree of professionalism with their selected funeral service. We will enable those we serve to make choices to enhance the services selected and promoting dignity while recognizing a life lived. We encourage an exceptional environment that would promote innovation, teamwork, professional practice and personal pride, which supports a culture of continuous quality improvement.