In Memory of
Visitation
---
Service
Respecting Wendy's wishes, cremation has taken place and no funeral service will be held.
---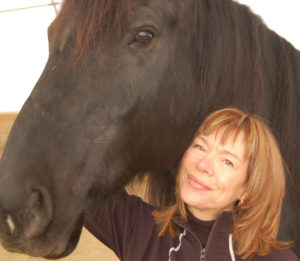 Wendy Golding
On March 20, 2019, Wendy Golding passed away at the age of 67. She was the life and soul partner of Andre Leclipteux, and mother to Hope Ivanoff, David Golding and James & Ben Ashton.
Wendy's passion for life and learning first drew her to horses. Early years riding and showing led to playing polo and riding in the Governor General's Horse Guards as an adult. Wendy's entrepreneurial spirit took her to the corporate world, and in partnership with Andre, owned a marketing-communications company with clients on the Fortune 500 list.
A polo injury shifted Wendy's focus with horses to one of a deeper, more heart-centred and spiritual connection. As the co-founder of Horse Spirit Connections, Wendy created the FEEL Approach, a transformational way of partnering with horses for personal growth. Graduates of this program have taken this work out around the world.
Deeply spiritual, Wendy was firstly a student of Shamanism and then a teacher, bringing this rich modality of healing and learning to many. She was unstinting in her generosity of sharing her knowledge, wisdom and love.
Life-partner, mother, friend, artist, mentor, teacher and more, she fought a courageous battle with cancer that ended with her passing into the spirit world. Wendy's passion, wisdom and heart have left an indelible mark on the lives of so many, and will not be forgotten.
Respecting Wendy's wishes, cremation has taken place and no funeral service will be held.
To honour and support the legacy Wendy created "Where horse interaction leads to human insight" and helping horses including rescues, a fund is being created. Anyone wishing to donate to this fund may do so either by e-transfer or PayPal to "andre@horsespiritconnections.com".
Horse Spirit Connection is registered not-for-profit corporation.
Print Obituary & Condolences