In Memory of
Visitation
---
Service
Thursday, December 15th, 2016 at The Nottawasaga Inn in the Crystal Ballroom. A memorial talk will be given at 1pm, with visitation to follow from 2-5pm.
---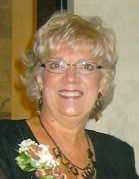 Vera Diane McGee
June 24, 1941 ~ November 26, 2016
It's with extraordinary sadness that we announce the sudden passing of our beautiful mother Vera Diane McGee, on Saturday, November 26, 2016, surrounded by her children. Diane was born June 24, 1941 in Woodbridge, Ontario to the late Vera Stiff and stepfather, the late Joseph Bibby. Devoted wife of the late Robert McGee; loved sister to the late Alvin Stiff (Peggy). Diane is survived by her beloved children and grandchildren: Jo-Anne and Colin Thain (Chance); LuAnne and Jim Turner (Barret, Talon and Devrann Wilton); RoseAnne and Mark Dalla Riva (Emma, Max and Sophie); BobbieAnne and Harold Mazar (Kalvyn and Colton) and Alan and Shannon and was also a proud great-grandmother and was fortunate enough to enjoy making some wonderful memories with them. Diane was also the adoptive mother of her nieces and nephew: Tim (Tyler), Tammy and the late Rosalind (Falon, Lance and Ashley). Mom was also affectionately known to many as "Auntie Di" and will be terribly missed by her cousins, in-laws, nieces and nephews and by her many friends. Diane grew up in Woodbridge and shared many fond memories of time spent with her grandfather, which brought her much joy, in her early years. She also accompanied her mother on many occasions when she went to work at the famous Mart Kenney Ranch, in Woodbridge, where outdoor dances were held. We think this is where mom got the first taste of her "entrepreneurial spirit". At a very young age of 11, mom got her first job cleaning up the dance hall after the events and never looked back. Mom always lived her life to the fullest. From her days teaching at Banting Memorial High School – to running her own hair-dressing business – mom was always on the lookout for opportunities to grow as a person and to help others. About 25 years ago mom became the founder and creator of WINGS (Women In Networking Growing Strong) and has had the privilege of mentoring many to success. Mom had a genuine love of people and nothing brought her more joy than to see them reach their goals in life. Her love of all things "butterflies" will live on as a constant reminder of her admiration of the resilience of the butterfly. If they didn't struggle to open their wings, they would die. And so she never let her struggles bring her down but used them to help her grow. Moms strong faith has always been the anchor in her life and she always tried to keep a balance that put God first, family and others, then herself last. Her beliefs gave her a beautiful hope for the future that helped her get through some of her own struggles in life, and she was blessed to be able to share her love and appreciation of our creator with others. Mom took great pleasure in watching her children and grandchildren grow and was always involved in their lives, making beautiful memories with them. She loved dinners with her children, playing cards, visiting the cottage, gardening, and going to all the local – and not so local – events. The Potato Fest, Beeton Meet Your Neighbour Picnic, Honey & Garden Fest and Elvis Fest will never be the same without her. She enriched the lives of so many and we are in awe of the incredible impact she had on others. Mom would have been very touched by all the amazing expressions of love and admiration. We want to take this opportunity to offer our sincere thanks to the amazing nurses in the ICU at RVH – especially Riley and Crystal, and all the staff who looked after mom with dignity and respect. Not to mention the wonderful support they gave us as we kept mom company in her final days. We also want to thank the many people who offered support of food, drink and spiritual support which helped us get thru this very emotional time. Diane's family wish to acknowledge, with our deepest appreciation, the abundant expressions of love, support, comforting messages and the many acts of kindness shown during this difficult time. If so desired please make donations to: Royal Victoria Hospital or the Heart and Stroke Foundation. Diane's memorial service will be held at The Nottawasaga Inn in the Crystal Ballroom on Thursday, December 15. A memorial talk will be given at 1pm, with a visitation to follow from 2-5pm.
Print Obituary & Condolences