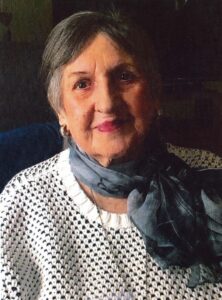 Martin: Doreen W.
Formerly of Longbranch, Etobicoke. Passed away peacefully at Simcoe Manor Beeton, Ontario, in her 94th year. Born in 1927 in Armagh, N. Ireland. Predeceased by her husband Maurice (1997), also by her sister Pat McCullough (2012). Lovingly remembered by her daughters Joanne and Cathy, son-in-laws Neil Menard and Mike McGoey, and grandsons Nigel and Owen, granddaughter Alexandra McGoey and Partner Josh, and Great Grandmother to Pearl. Also will be missed by many surviving relatives in Northern Ireland, in particular the Boersma Family and the Johari Family, and the Martin Family.
Doreen was known for her kind and loving nature, her love of poetry and music, and welcoming nature. Her life was one well lived. Cremation has taken place and a private family gathering will be held at a later date.
Arrangements entrusted to Rod Abrams Funeral Home Tottenham. Condolences and memories may be shared with the family at www.RodAbramsFuneralHome.com .