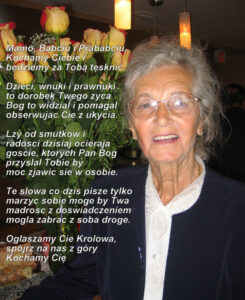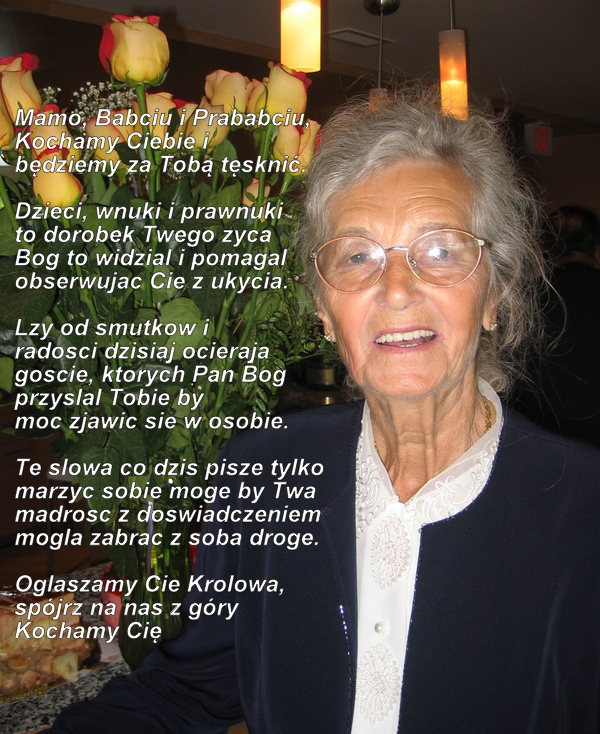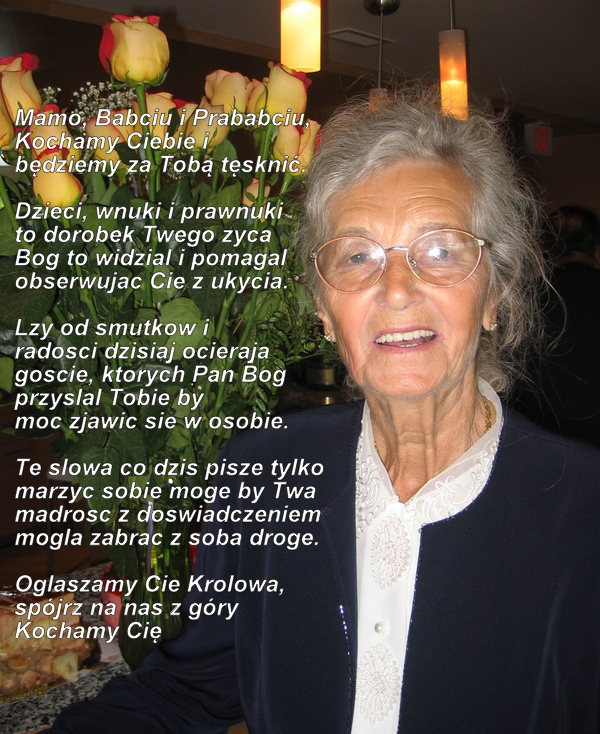 Sulikowska: Stella,
It is with heavy hearts, we announce the passing of our beloved Stella Sulikowska who left us peacefully on Monday, April 19th, 2021 surrounded by loved ones. She leaves behind her daughters, Halina, Jadwiga and Wanda as well as her grandchildren and great grandchildren. Stella was born on May 28th 1926 in Poland, and moved to Toronto in 1976 where she began a new chapter in her life. She led a vibrant life and has made our world a brighter place with her presence. Stella was a very religious person who prayed the Rosary daily. She had a very active lifestyle and devoted her life to her family. She will be missed by many and never forgotten as she has left a memorable legacy to be treasured. Stella provided us with the comfort that she will one day look upon us and said that even though she has to leave, she will never be gone from our hearts. May she rest in eternal peace in God's Eternal Presence.
A private Mass of Christian Burial will be held at St. James Church Colgan. Interment will follow in St. James Cemetery. Arrangements entrusted to Rod Abrams Funeral Home Tottenham. In lieu of flowers, everyone is encouraged to show support to Stella's family by leaving tributes, memories, and condolences at www.RodAbramsFuneralHome.com.
The Funeral Mass will be recorded and posted to the Rod Abrams Funeral Home Facebook page for those who wish to view from the safety and convenience of your own home.  Please click here to view the funeral visitation. To view the funeral mass, Please click here.
Family THANK YOU Note – to everyone who Stella would like acknowledged.  
On behalf of Stella and her family, we would like to sincerely thank all those who helped us during these last few weeks of her life.  Thank you to all the staff, nurses and doctors at Stevenson Memorial in Alliston. Thank you to home nurses, Michelle & Cynthia, and PSW's – Betty and all the other important PSW's that visited her daily.  We want to thank you so much for helping our family take care of Stella at home and keeping her comfortable.  Stella appreciated all the care from all of you.  Another special Thank You to Dr. Liesbit Jensen.  Thank You to all your staff for your care and concern in taking care of our special Stella.  
Father Nick (St. James Church) – we are very grateful for your presence in our family.  Stella became so content and at peace after your anointment.  We thank you for being there for her and giving her the blessing to leave this life on earth.  Father Nick, thank you for arranging a beautiful mass and for Michael, the organist.  The music was so beautiful. 
A special thank you for all the hard work to Rod Abrams, Scott & Staff.  Your professionalism and compassion was very much appreciated.  Thank You for taking care of our Mother, Grandmother, & Great-Grandmother.  
I want to also thank my mother, Halina for caring for my grandmother in her last weeks of her life.  Babcia Stella was so grateful that you took her home from the hospital.  To my aunt, Wanda, you mean the world to us as you did to Babica – Thank You for being there.  You & Halina both made her feel so comfortable and at peace.  Thanks Sylvia for your help too.  
Thank you to all those who took the time to write a special message for Stella and send her family words of support & love.  I feel that Stella was watching over us during her time of departure.  
Thank You to her family that were able to attend the private burial service.  To those that wish they could have been present at her funeral – again – Thank You for thinking of Stella and her family. 
This was a sacred sacrament that brought her loved ones together to celebrate the love and life of a beautiful being.  
May God Bless you all and carry the faith in your lives.